Seminar Materials for the Participants of the January 15-16, 2022 Seminar in Cosmetic Acupuncture
Dear colleagues, 
Thank you for attending the Cosmetic Acupuncture Seminar 2022 in Evanston!
It was a great pleasure meeting all of you! 
I greatly appreciate your participation, interest, dedication, energy, and spirit! 
Posted below is the information I promised to post for you on my website: Fat Baby Pill (Fei Er Wan) - anti-parasites formula, and the Plum Blossom Hair Growth study. Please, come back in a couple of days (today is January 18, 2022) - I am going to post also the
1. Omo Dei Facial Protocol,
2.  Herbal formula to treat the swollen red itchy eyelids,
3. Information regarding the essential oil that I mix for the guasha and cupping.
1. Fat Baby Pill (Fei Er Wan) - anti-parasites treatment formula applied for little children. I successfully apply this formula for treatment of parasites in adults as well. It is very delicate in its action, and its side effects that were reported by my patients during my clinical practice included: fatigue, experienced by some patients for the initial 3 days, and mild headache. I prescribe 5 pills to be taken for 4 weeks daily in the morning on empty stomach with a glass of water. at the end of 4 weeks, re-evaluate and recommend to the patient to return back for the follow up treatment in 3-6 months. Repeat as needed. The 1st edition off Bensky's textbook Formulas and Strategy, states that it is difficult to get rid of parasites, since the practitioner has to expel not only the parasites only, but also their eggs. However it is worth applying this herbal treatment, considering great results that I have observed in my clinical and academic practice. 
The weight of each individual herb I post below, provides for the 2 weeks supply of the Fei Er Wan. Please, keep in mind:  some of the ingredients here are difficult to shred for the small coffee grinder. I recommend to buy at least 175W (or stronger) coffee grinding machine, otherwise you would need to break Si Jun Zi and Rou Dou Kou with the pestle and mortar first.  
Fat Baby Pill 
(Chan) Shen Qu  8g,  
Huang Lian 5g,  
(Wei) Rou Dou Kou 6g 
Shi Jun Zi  9g 
(Chao) Mai Ya 10g  
Mu Xiang 5g 
Bing Lang 9g. 
I buy the herbs at the Spring Wind Herbs company: https://springwind.com/pages/about-spring-wind-herbs. 
Preparation instructions: grind the herbs into a thin powder, mix it well, and press the powder into 70 empty gelatin capsules size zero. This amount provides the 2 weeks supply of the Fei Er Wan Powder for the patient. 
Please let me know if you have any questions. 
2.  Plum Blossom Hair Growth Study Publication 
 https://europepmc.org/article/pmc/pmc8137033.  
Nozomu Kawashima, MD, PhD,a, 
Xiaochen Hu, BMed (TCM), PhD,b Nagako Ishikawa, MD,b Takaharu Matsuhisa, 
MD, PhD,b and Juichi Sato, MD, PhDb 
https://europepmc.org/article/pmc/pmc8137033 
Sponsored by the Japan Society for the promotion of science Grant ID: 18K12273 
The patient received 2 JKM formulas (saikokaryukotsuboreito and shichimotsukokato) in combination with acupuncture. When relapse occurred, a novel self-administration of pine-needle acupuncture was initiated in combination with the JKM formulas. 
Conclusion: 
A combination of multimodal traditional therapies, including JKM formulas, acupuncture, and self-administered pine-needle stimulation, represents an effective integrative treatment for patients with AA. 
Keywords: alopecia areata, formulas, japanese kampo medicine, pine-needle acupuncture, plum-blossom acupuncture 
The Herb saikokaryukotsuboreito Means: With the oldest Karyu bone oyster, 
shichimotsukokato means With solidification. 
Japanese Kampo formula Saikokaryukotsuboreito is Chinese formula Chai Hu Jias Long Gu Mu Li Tang 
Individual ingredients disperse wind, transform phlegm, dry dampness, tonify Qi, tonify middle Jao, tonify Lung.
Japanese Kampo formula Shichimotsukokato is the equivalent of Chinese formula Qi Wu Jiang Xia Tang.
It tonifies and invigorates the blood, qi, and extinguishes the internal wind.
This is a famous Kampo formula composed by the Japanese physician Otsuka Keisetsu for the treatment of hypertension. It is indicated for patterns characterised by headache, flushing, tension, of the neck and shoulders, sensitivity to cold, tinnitus, urinary frequency, dry skin, and tendency to become tired. For the composition and the mechanism of action of these formulas, please refer to the Formulas and Strategies book by Bensky & Ellis.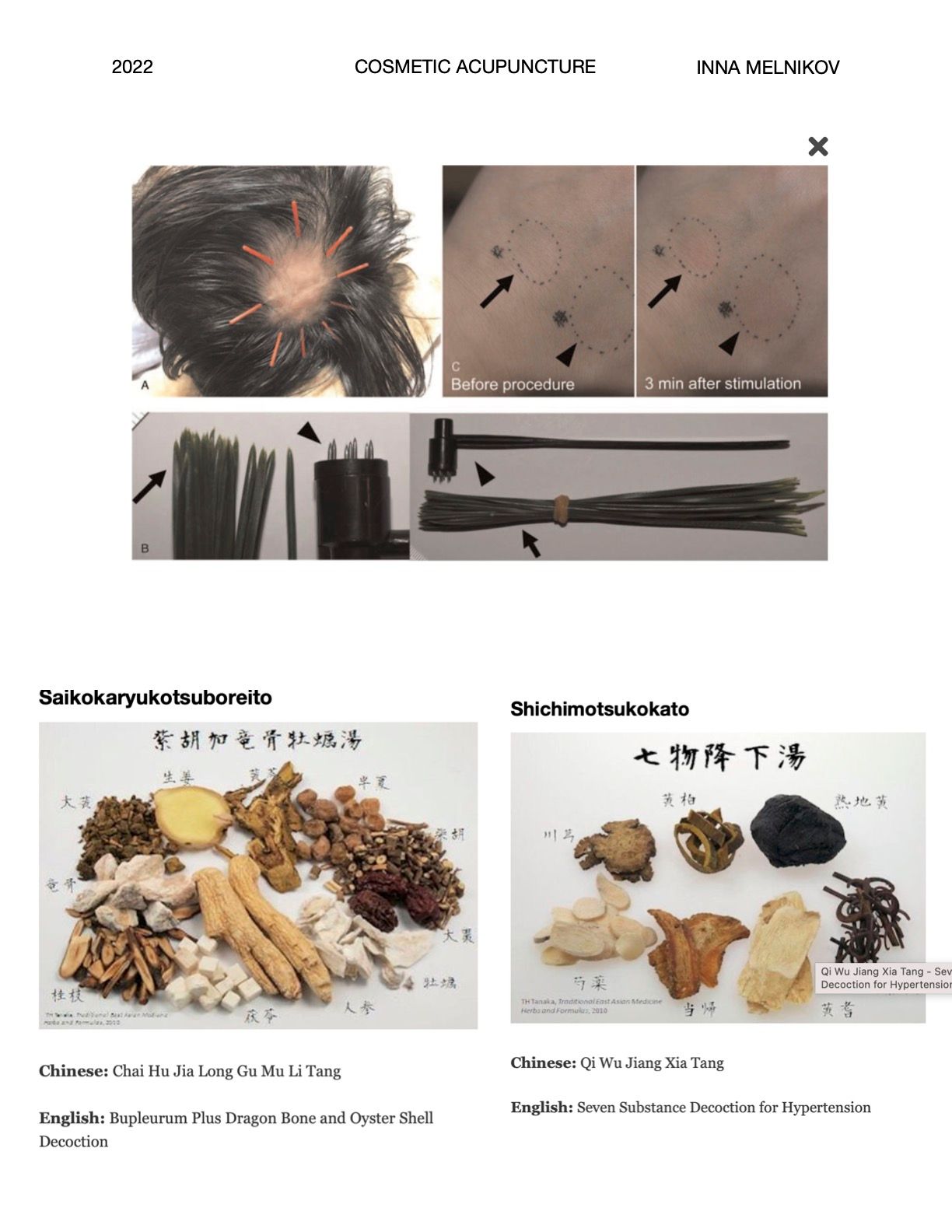 Please, let me know if you have any questions.
I look forward to staying in touch and for future seminars with you!
Sincerely,
Inna Melnikov, DACM, NCCAOM National Board Certified, LAc.
Throughout my career at the Pacific College of  Oriental Medicine as a faculty member and a clinic supervisor (2010-2016), I developed a clinic curriculum in body rejuvenation and cosmetic acupuncture, training students in facial and body rejuvenation techniques without the opportunity of giving them a professional certificate. My interest in the field began when I was first introduced to cosmetic acupuncture in Siberia, where I traveled and practiced with the group of physicians. Later, in the United States, I was introduced to this modality by my college professors who learned it in China. In response to my own interest, as well as the overwhelming academic and public demand, I have developed a new program that trains and certifies Medical Doctors, Doctors of Chiropractic, Doctors of Dentistry, Doctors of Osteopathy, and Licensed Acupuncturists in Cosmetic Acupuncture.  
I conduct trainings and seminars in various fields of eastern medicine. After many years of practice and teaching, I have perfected a curriculum to tailor to the interests of medical practitioners, as well as the changing demands of the field. Taught by the only instructor of Integrative Cosmetic Medicine in the Midwest, this program gives physicians a strong edge in the filed by helping them expand their patient base by meeting the rising demand for cosmetic acupuncture.  In 2019, this seminar was approved by the NCCAOM, and now it provides 14PDA/CEU for the acupuncture licenses throughout the United States.